Gyrocarpus Americanus
Circling through the air like a whirly-gig, "Gyrocarpus Americanus" (commonly known as the Helicopter Tree) seed pods whimsically embellish Mercy Housing Northwest. Rusted steel and hand blown glass pods move across the surface of the building as if blown by seasonal winds.
Mercy Housing Northwest is situated in the area known as New Tacoma. It is an anchoring community building, bringing residents and vibrancy to downtown Tacoma. Like seeds blown in from the wind, taking root on the hillside, Mercy Housing and New Tacoma have revitalize this key area.
While walking the site of the Mercy Housing Northwest project with Alisa Luber, Senior Project Developer, meeting residents and staff, and taking in the surrounding location, current art and plantings, the concept of growth really struck Diane and her art design partner Jennifer Weddermann.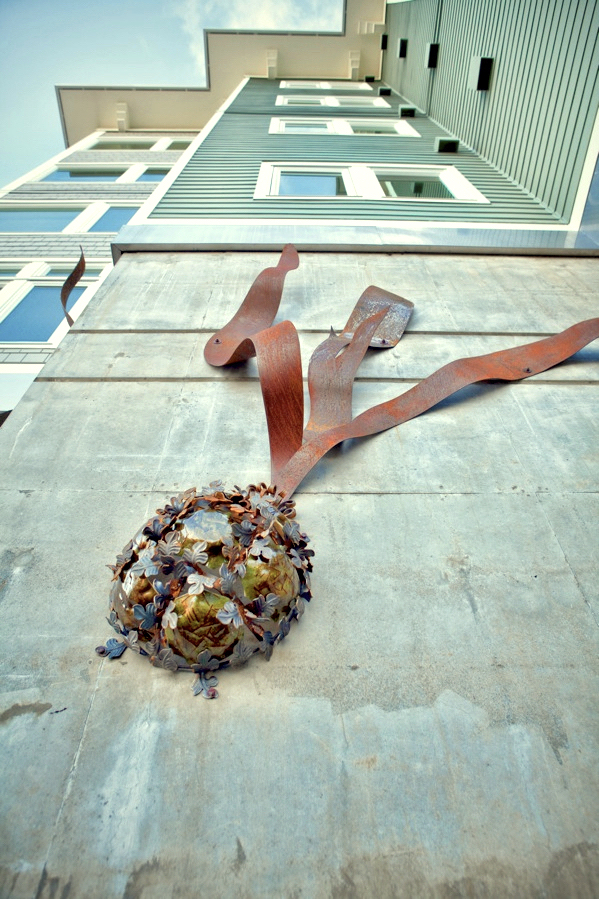 The artwork is comprised of a total of 6 seed pods, each fabricated out of glass and rusted steel. There are two different seed pod designs. One is made with hand-blown glass seeds with bases wrapped in 24K gold leaf and nestled in chartreuse green painted forged steel organic shapes. The other is formed from fused and slumped glass pod skins held in place by ornate rusted steel leaves. Pod dimensions are 9' H x (up to) 36" wide x 16" deep